Washington, DC, February 6, 2023 — The Traffic Injury Research Foundation USA, Inc. (TIRF USA), in partnership with TIRF in Canada and with sponsorship from the Anheuser-Busch Foundation, released the eighth annual Road Safety Monitor (RSM) on alcohol-impaired driving. In concert with the National Roadway Safety Strategy (NRSS) call to action (www.transportation.gov/NRSS/CallToAction) to eliminate roadway fatalities and serious injuries, this fact sheet summarizes key findings regarding the prevalence of alcohol-impaired driving, reasons for engaging in this behavior and characteristics of these drivers. New work underway from TIRF's Working Group on DWI Systems Improvements can help communities tackle this issue by implementing an impaired driving strategy based on the Safe System Approach.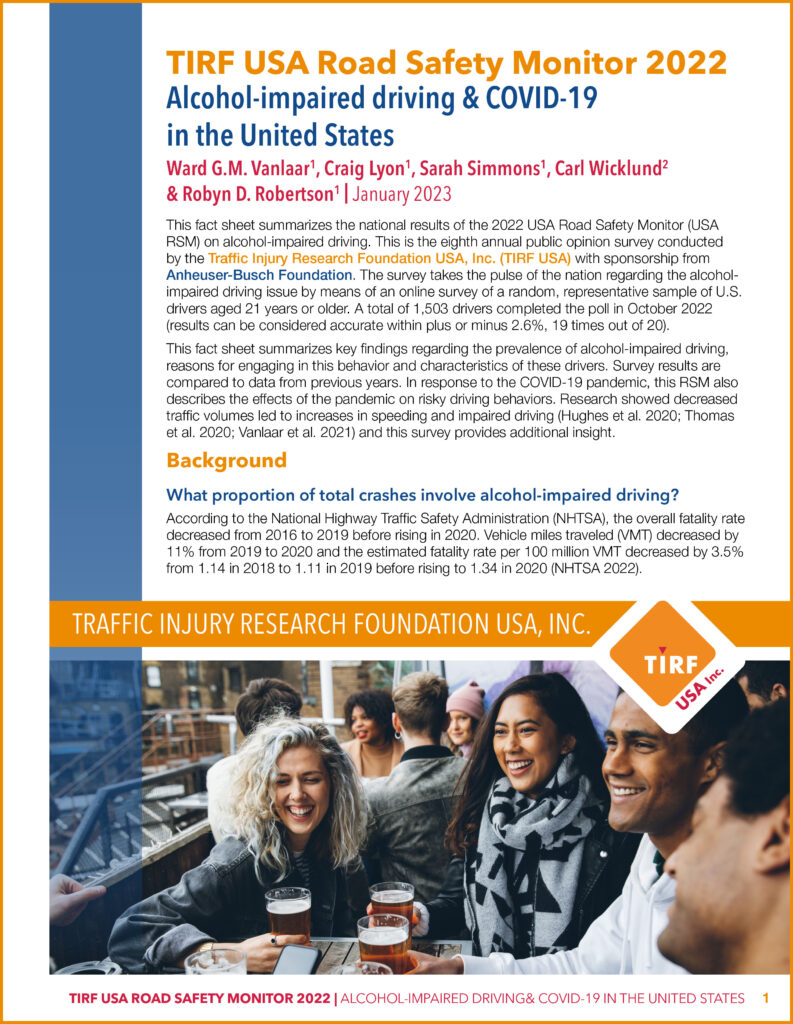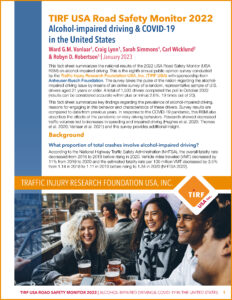 "The percentage of respondents reporting driving when they thought they were over the legal limit in the last 12 months decreased from 22.5% in 2021 to 19.6% in 2022. In addition, persons reporting driving impaired often or very often also decreased significantly in 2022 to 9.7% compared to 12.3% in 2021," notes Carl Wicklund, TIRF USA senior research advisor. "This decline is promising and suggests a similar decrease in alcohol-related fatalities may potentially follow it."
Early estimate data for 2021 from NHTSA showed a drop in alcohol-impaired driving fatalities to 8,174 despite total fatalities rising to 42,915 from 38,824 in 2021. While these data are preliminary and subject to change, it is encouraging to see progress with alcohol-impaired driving may have been made in 2021 compared to 2020.
The poll also explored reasons why this minority of drivers chose to drive when they thought they were over the legal limit. This knowledge is critical to guide prevention strategies. Notably, in the past five years, there has been a fairly steady downward trend in one of the primary reasons given by drivers, suggesting education is important for continued progress.
"Among the percentage of drivers who reported driving when they thought they were over the legal limit, the percentage who did so because they 'thought they were okay' has shown some large declines to 30.7% in 2022 compared to 50.7% in 2018," shares Dr. Ward Vanlaar, COO of TIRF Canada and lead author of the study. "Research has demonstrated drivers simply aren't good at gauging their level of impairment after drinking and education can help address this issue."
Other reasons reported by drivers included thinking there was no alternative to driving or believing they wouldn't be caught. Coupling targeted educational efforts with other proven impaired driving deterrent policies such as alcohol ignition interlocks can help accelerate progress.
The good news is that there was a small 3.9% increase in the proportion of respondents indicating they had been a designated driver, used a designated driver, a taxi or public transportation or ridesharing (79.8%). "This rise may suggest that the health concerns related to exposure to COVID-19 and the negative effects on the usage of public transportation and ridesharing options have lessened, but still not returned to pre-pandemic levels," says Vanlaar. "More work is still needed to encourage greater reliance on alternatives to driving impaired."
There were also some other positive findings noted in the poll. In general, less risk-taking on the road was reported across all dangerous driving behaviors in 2022 compared to the 2020-2021 average.
In recognition of the importance of tools and resources to help communities implement a comprehensive strategy based on the Safe System Approach, the focus of TIRF's Annual DWI Working Group meeting held last Fall was to fill this gap. The meeting included a broad cross-section of criminal justice, health, engineering, state and community officials, including industry and not-for-profit partners, who examined opportunities to strengthen community impaired driving initiatives and the types of tools and resources needed to support these efforts. Work is underway to create needed materials which will become available later this year. The DWI Working Group is also funded by Anheuser-Busch.
Download fact sheet: TIRF USA Road Safety Monitor 2022: Alcohol-impaired driving & COVID-19 in the United States
About the poll
These results are based on the 2022 TIRF USA RSM, an annual public opinion survey developed and conducted by TIRF USA, in partnership with TIRF in Canada. A total of 1,503 drivers in the U.S. completed the poll in October 2022 (results can be considered accurate within plus or minus 2.5%, 19 times out of 20). The data were stratified and weighted by sex, age, and region. The majority of the questions were answered using a scale from one to six where six indicated high agreement, concern, or support and one indicated low agreement, concern, or support, as well as numerous yes/no questions. All respondents completed the survey online.
About the Working Group on DWI System Improvements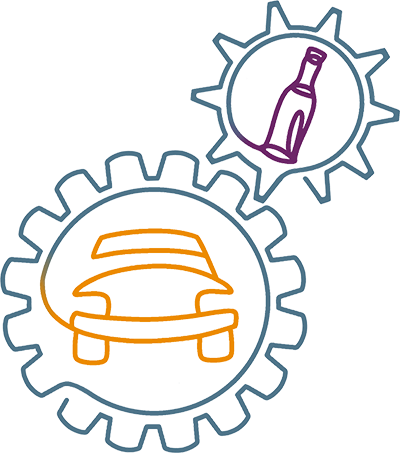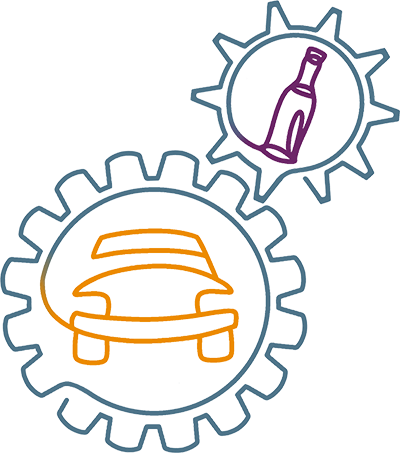 The Working Group on DWI System Improvements was formed in 2004 by TIRF. It is a prestigious coalition of senior leaders of organizations representing frontline professionals in all segments of the criminal DWI system (law enforcement, prosecution, judiciary, supervision, and treatment). Visit https://dwiwg.tirf.ca.
About TIRF USA
The mission of the Traffic Injury Research Foundation USA, Inc. (TIRF USA) is to develop and share the knowledge that saves – preventing injuries and loss of life on American roads, reducing related social, health and insurance costs, and safeguarding productivity. TIRF USA is an independent road safety research institute with 501(c)3 non-profit status in the U.S., established in 2014, and is affiliated through an exchange of services agreement with TIRF in Canada, established in 1964. Visit us online at www.tirf.us or twitter.com/tirfusainc
About the Anheuser-Busch Foundation
Established in 1975, the Anheuser-Busch Foundation focuses on supporting organizations that help individuals and communities thrive. The Foundation contributes to countless community organizations every year in support of disaster preparedness and relief, economic development, education, environmental sustainability, military personnel and responsible drinking. Anheuser-Busch and its foundation are united by an unwavering commitment to supporting the communities that they call home and over the last 30 years, Anheuser-Busch and the Anheuser-Busch Foundation have donated more than $600 million to charitable organizations across the country. For more information, visit www.anheuser-busch.com.
For more information, please contact:
TIRF USA Inc. Corporate Office
20 F Street, 7th Floor, Washington, DC 20001
Tel.: 202-507-6334
Website: www.tirf.us
Email: tirf@tirf.us