TIRF USA has conducted an annual Road Safety Monitor public opinion poll series since 2015 in partnership with TIRF in Canada and with sponsorship from the Anheuser-Busch Foundation. Each year a report is published on the prevalence of drinking and driving, reasons behind decisions to drive impaired and characteristics of the drivers. Additionally, the prevalence of impaired driving is compared to the prevalence of other risky behaviors such as distracted driving, fatigued driving, aggressive driving, and drug-impaired driving.
The 2021 fact sheet summarizes key findings regarding the prevalence of alcohol-impaired driving, reasons for engaging in this behavior and characteristics of these drivers. Survey results are compared to data from previous years. In response to the COVID-19 pandemic, this RSM also describes the effects of the pandemic on risky driving behaviors.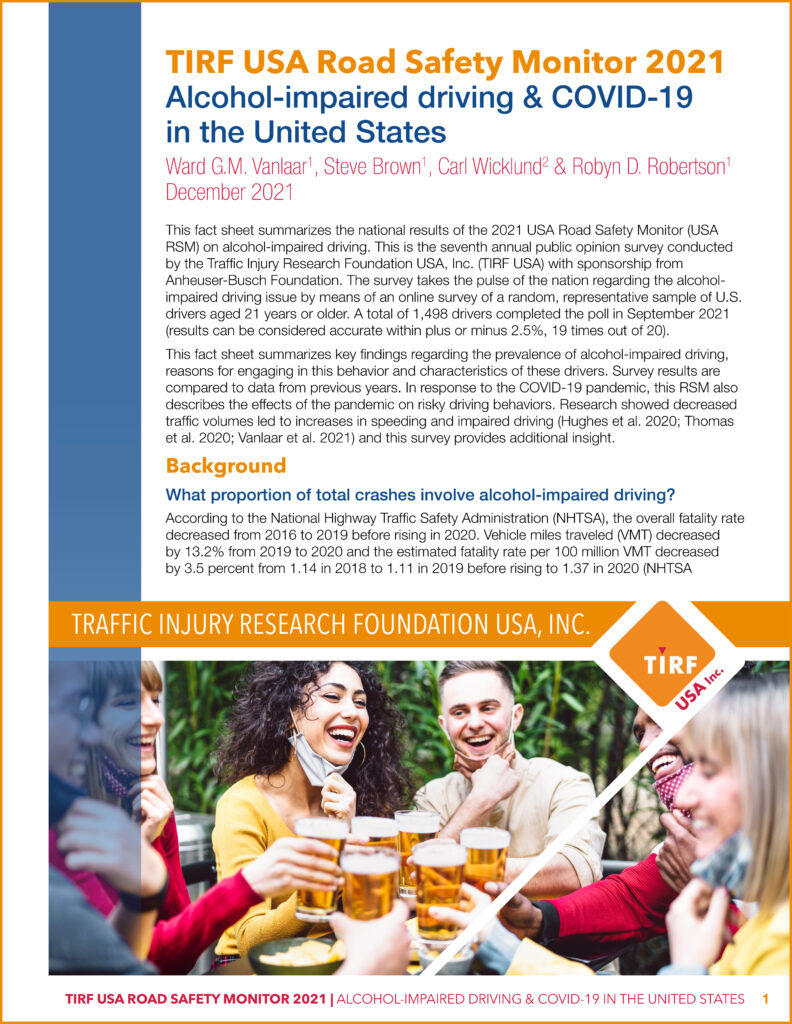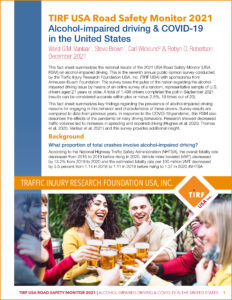 In general, all dangerous driving behaviors were reported more often in 2021 compared to 2020. While most drivers took extra care and were less likely to engage in certain risky driving behaviors during the pandemic, a smaller but significant proportion of drivers indicated they were more likely to do so. This helps explain the preliminary data demonstrating increases in speeding, impaired driving, and more severe crashes as a result of the pandemic. Results of the RSM also show almost three in five U.S. drivers (59%) reported they were very or extremely concerned about the pandemic. Comparatively, 65% of U.S. drivers indicated they were very or extremely concerned about alcohol-impaired driving. In addition, 78% of U.S. drivers agreed alcohol-impaired driving was a serious problem. Despite this high level of concern about alcohol-impaired driving, more U.S. drivers reported often driving when they thought they were over the legal limit in 2021 than in 2019.